Leaders in Contract Manufacturing Fine Jewelry
MCM Technologies is a leader in outsourced manufacturing for fine and fashion jewelry. Jewelry companies around the country rely on our jewelry contract manufacturing services to produce the highest quality Men's, Women's and Accessory jewelry products in base metal, silver and Karat Gold.
Craftsmanship Meets Capacity at MCM's Jewelry Manufacturing Division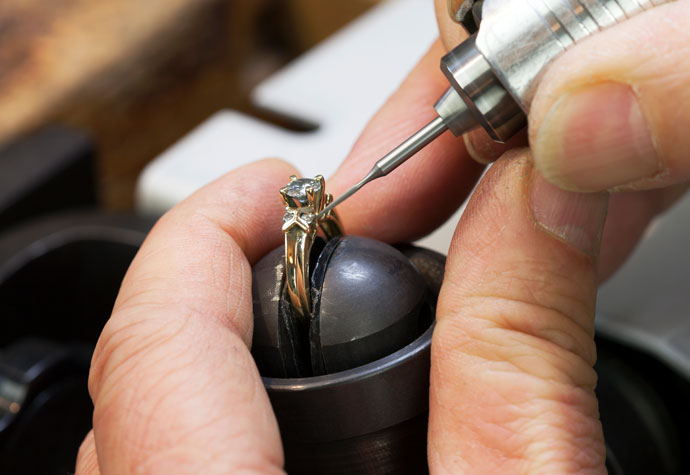 The highest level of service in jewelry manufacturing
MCM's experienced jewelry makers have a deep understanding of the materials and manufacturing processes. We love to collaborate with jewelry designers to share our knowledge and make recommendations to help you hit your targets.

Our ultimate goal is to partner with your company to elevate your jewelry products and ensure your program is a success.
A modern facility focused on efficiency
Schedule a tour of MCM's large, 50,000 square foot facility in Providence, RI to find a bright, modern facility with traditional jewelry benches as well as advanced robotics and automation tools that add efficiency to every job.

We pride ourselves on having capacity for large orders and the staff to turn them around quickly.
Focused on creating the best quality jewelry products
Expect the highest levels of quality from MCM. Our jewelry manufacturing services include quality control checks during every step, ensuring that any issues are identified quickly and rectified before becoming a larger problem.

And when additional tools or expertise are needed, we have strong relationships with local jewelry experts who can bolster the quality of our jewelry products.
Let your creativity run wild with added capabilities
MCM Technologies is one of three companies owned and operated by the same family. A&H Duffy offers automated, robotic, mass and hand polishing, while Quality Spray expands our expertise into UV coatings and epoxy.

Together, our organization offer upgraded capabilities that let you explore new ideas that leverage these different services all under one roof.
Support for Designers & Jewelry Companies of All Sizes
Here at MCM, we enjoy working with small, up and coming jewelry designers as well as larger, more well-established brands. Regardless of where you find your jewelry business, MCM has the expertise to satisfy your needs and support your growth over the long-term...
New Jewelry Designers
A proper introduction to the manufacturing side of the jewelry industry
From design to production to fulfillment, MCM partners with you for success
Established Jewelry Brands
A reliable manufacturing partner
High volume orders are no problem
Experienced working with large retailers
Jewelry Companies in Between
A manufacturing partner that is willing to experiment with new ideas
When you hit upon the next big idea, we have the capacity to grow with you